Stago Added Value On Request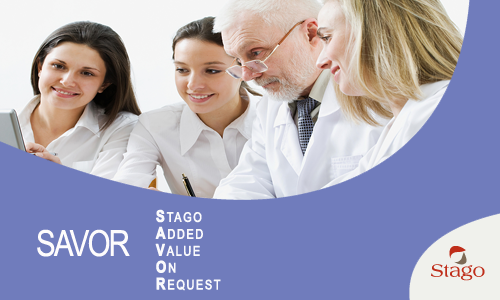 As the Hemostasis market matures, it is characterized by consolidation, automation and an overall shortage of medical technologists - those who perform the actual work in the lab.  Specialists have become generalists, and employee turnover is high. While the laboratory is evolving, the demand for knowledge and expertise is greater than ever. 
The requirements range from basic instrument operation and technical assistance with new product applications, to customized supply chain requests for managing product inventory. To meet these demands, Diagnostica Stago is pleased to introduce our SAVOR program offerings.
SAVOR is an evolution of our current offerings, customized to meet our customers' requests for tailored training programs, inventory management and other services. In addition to new programs, we have evaluated our existing training and modified our approach to provide a more "hands-on" experience. Our objective is for the lead technologist/key operator to leave the program with a higher level of expertise. As always, premium service and customer satisfaction remain our highest priority as we adapt our offerings to a changing laboratory environment.

Please use this online catalog as a guide to our expanding service and support offerings. Each item includes a reference catalog number and detailed description. Your Stago Account Manager can provide additional details related to logistics and pricing.