Stago Canada Ltd./Ltée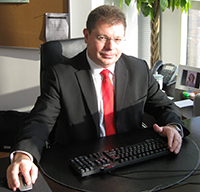 Diagnostica Stago is the only independent international company dedicated to the exploration of Hemostasis. The mission of every Stago employee is to develop and provide best-in-class diagnostic systems, services and support to healthcare professionals in order to better prevent, understand, diagnose, treat and follow-up Hemostasis disorders.
 
With more than 20,000 active systems installed in more than 110 countries, Stago has successfully created and continues to develop a comprehensive range of services involving all our teams, with a permanent focus on patients. We attach crucial importance to customer satisfaction, a mission that is underpinned in the values shared within the company: innovation, quality, expertise, team spirit and long-term commitment.
 
Involved in human healthcare, ethics are a second nature to us, and a fundamental and long-term commitment.
 
All Stago North America employees are dedicated to these values and they are fully committed to anticipate and respond to the needs of our North American & Canadian customers.
 
Philippe Barroux
North America Chief Executive Officer
Diagnostica Stago, Inc.