In April 2017, Stago officially launched its IFU (Instruction for Use) platform at www.stago.com so that customers worldwide could visit and download reagent instructions, analyser reference manuals and safety data sheets that they need for their day-to-day work.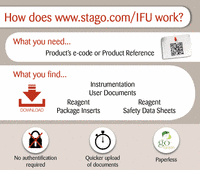 This "eco-friendly" approach obviously reflects Stago's wish to reduce the use of paper by reducing the number of language versions of the leaflets placed in reagent boxes, but it was not our only objective. By transferring this information over to digital media, we have enabled customers the world over to carry out more specific searches from the IFU platform and find the right reagent instructions for a specific lot hence, ensuring traceability, as required as part of the accreditation process.
Since September 2017, more than 800 lots of reagents have been produced, each with its own specific e-code. The code is printed on a sheet inserted within the reagent box.
About twenty different reagents (STA-NeoPTimal, STA-Liquid Fib, STA-Deficient, STA-Liatest D-Di Plus, STA-Staclot Protein C, STA-Unicalibrator, STA-Liatest Control N+P, STA-Control N+P, STA-Quali-Clot, etc.) are so far affected by this development. These kits have already been sent to customers on all five continents, since Stago is now present in more than 90 countries.
Stago is continuing to reduce its use of paper and will be taking many additional actions to improve customer service. So stay connected!