As part of our commitment to healthcare, Stago has been closely monitoring the development of Covid 19 worldwide, implementing several actions in the past few weeks.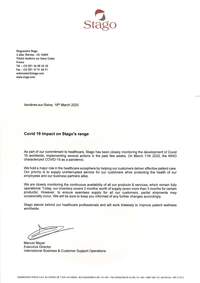 On March 11th 2020, the WHO characterized COVID-19 as a pandemic.
We hold a major role in the healthcare ecosphere by helping our customers deliver effective patient care. Our priority is to supply uninterrupted service for our customers while protecting the health of our employees and our business partners alike. 
We are closely monitoring the continuous availability of all our products & services, which remain fully operational. Today, our inventory covers 3 months' worth of supply (even more than 3 months for certain products). However, to ensure seamless supply for all our customers, partial shipments may occasionally occur. We will be sure to keep you informed of any further changes accordingly.
Stago stands behind healthcare professionals and will work tirelessly to improve patient wellness worldwide.